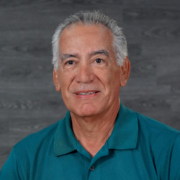 Corky Saenz
Consultant
Corky Saenz joined Freeman in 2013 with more than 43 years of Health and Welfare insurance experience in the greater Houston area.
After graduating from St. Mary's University on a four year baseball scholarship, Corky's first stop was Hartford, Connecticut to attend The Travelers Insurance Group school. During six months of intense training, Corky was provided a solid base in all facets of underwriting, compliance and administration of group insurance contracts. Today, he applies these traditional principles in order to meet and exceed the needs of his clients.
Corky is highly experienced in working closely with large and small corporations as a senior account manager; and yet he also enjoys helping individuals with their needs. His passion and focus is to be an Advocate, Broker, and Consultant for each and every client, regardless of their size.
Corky and his wife Ann have been married 41 years and reside in Jersey Village. He likes to stay busy; when he is not training for a Marathon, Corky enjoys competing with his boys in a round of golf.